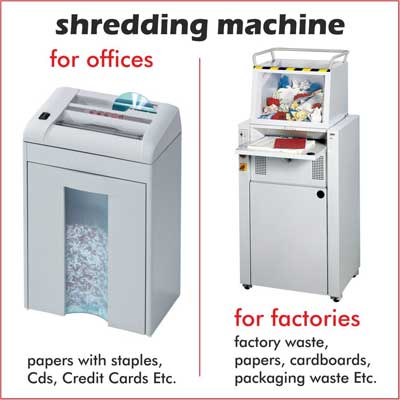 We are stockist of shredding machine from Germany; the world's best brands like HSM, INTIMUS and EBA, these machines are available in various capacities most in ready stock at very reasonable India prices!

Do you want a shredding machine for papers?

We have paper shredder with latest features and sizes, from small for homes, medium small office and large departmental shredders, along with these paper shredding machine we also have an entire range of shredding machine equipment, that can efficiently shred almost all materials such as plastics, wood, paper and cardboard, nonferrous metal, medical waste and factory waste Etc.

Processing materials or products at the end of their life-cycle, the industrial grade shredding machine from SASCO transforms waste material into recyclable materials suitable for re processing We ensure the machine that you purchase creates the optimum output efficiently and reliability in volume reduction, storage and transportation.

For more than 10 years our shredding machine has been utilized to process large objects like plastic chairs, tables, crates, drums, pallets etc. into a small uneven pieces for further processing – We deliver the optimum size reduction solution in the industrial sector.

Of course our range of over 100 models of papers shredders are readily available all over India, backed by an excellent after sales service network, even in small cities.