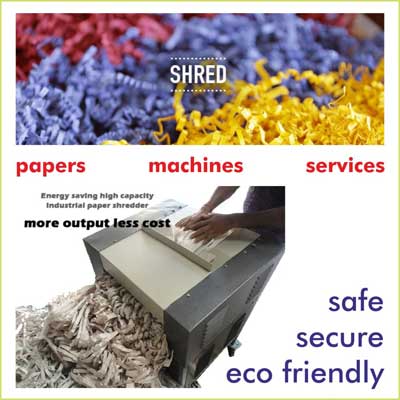 Shred all your confidential data, use our machines, shredding services or call us if you need shredded papers, we are truly a shredder superstore, all you need with the word shred is available with us.

We sell paper shredder for homes and offices –
The worlds best brands like – INTIMUS, FELLOWES, KOBRA ,GBC are all available with us, with a stock of hundreds of machines we shall definitely have a machine that you will like and at a fantastic price too!

We manufacture industrial shredder
Huge shredder for destroying papers,plastics,wood,glass Etc. you can use these machines for destroying all your factory waste, then sell it to the scrap vendor and he'll give you a good rate for for sure, these shredders are ideal for breaking, tearing or crushing material for processing.

We import a wide variety of degausser
From small compact table top degausser to heavy duty machines for permanent data deletion from laptops, desktops, server, or any other magnetic storage device. We have a complete range to suit any budget.

We offer onsite shredding service –
If you have a large amount of documents for shredding, your normal office shredder is definitely not going to be adequate, just use our service and get rid of this rare once a year activity done fast safe and for free too!

We have hard drive shredder –
Well keeping with the times, we made out that papers are increasingly being used for only very important data which needs to be seen on hand and discussed with others, nowadays most information is stored on Hard drives, you have a paper shredder but now you'll have hard drives too in your office, we have a hard drive shredder to get rid of this very important medium.

We have shredded papers for packing –
Yes you guessed right, when you have the entire range of shredders and also provide shredding services we'll definitely have a lot of shredded papers that can be used for packing, other than these we have coloured crinkled papers for gift wrapping too.

Over the years we've built a business with an exceptional range of shredding products and customer service, delivering unrivalled value for money through our tried and tested range of data destruction products backed by our efficient trained personnel is ready to take your call anytime. We carry out secure paper shredding and document destruction services across a wide range of industries from small and private households through to large multinational organisations. No job is too big or too small. We serve local authorities and government departments as well as households also.

Paper shredding is an instrumental part of many businesses as an element for gathering practical experience of how these machines perform and are used by clients, no wonder because of this immense hands on knowledge we are able to make machines that stand out on performance for many years.

Well last buy not the least all our shredded papers are recycled and so we are in contact with paper mills and partly into the recycling business too!

Whatever you need to shred, we'll have a solution for you, guaranteed!
SEND ENQUIRY