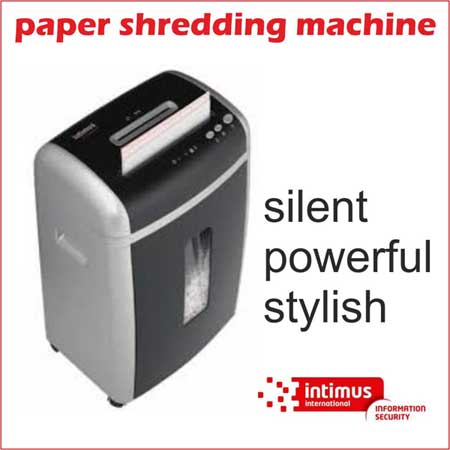 A paper shredding machine chosen according to usage will last for years, shredding machines from INTIMUS renowned for their excellent features like silent operation, micro cutting stand out amongst others.

Indeed a paper shredding machine is now an absolute necessity; safe disposal of our confidential documents is top priority in these uncertain times when fraudsters are waiting to take advantage of our carelessness.
Be sure to dispose all papers after shredding at office and also at homes, with a wide range of small shredders available nowadays there is no reason for not using one at home too.

SASCO range of paper shredding machine are of remarkable Quality with most Premium features like Energy saving design, integrated cutter, with High Speed shred and much more from the world's best manufacturers.

We have tried and tested numerous shredders and zeroed down on the best performing machines from each manufacturer with distinct features to offer an entire range of high tech durable paper shredding machine.

Whole cutter assembly is made of high grade steel, with warranties for many years for life time performance. Due to hard nylon plastic gear system, SASCO shredders are free noise free and from any overload gear damages thanks to its drive assembly. It crushes staples, paper clips, credit cards and has high standard safety features. There is no need to removed staples from papers before shredding.

Enumerated here is assorted paper shredding machine from GBC, the market leader in office automation products from USA.


SEND ENQUIRY