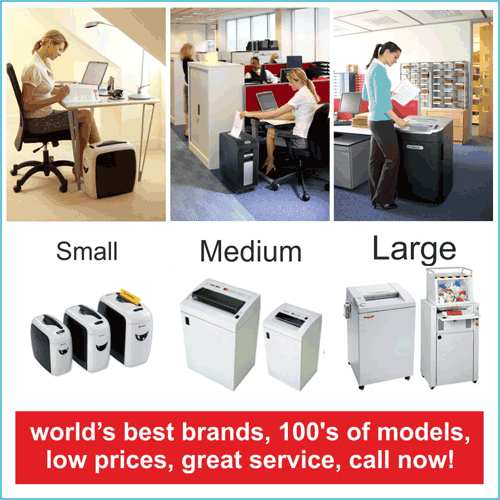 A paper shredder is an absolute necessity not only at office but at homes too, with the amount of useful information on papers such as addresses and contact numbers, emails on statements, bills and subscriptions it is very important to shred all documents before throwing them out, with a wide range of shredders available in India and very reasonable prices there is no reason not to own one now!

Agreed nowadays there is very less paper work, but we tend to print important documents which have to be shredded, you may choose a shredder from our small category or medium category shredders depending on the waste papers generated daily. Or even buy a big shredder if you have a lot of papers to destroy daily, these big shredders are mostly for banks, telecom companies, consulates or government offices.

There are a lot of paper shredders in the Indian market today and choosing the right one can really be confusing if you are not acquainted with these machines. One of the most important things to determine before you choose one is the approximate number of papers you will have for shredding daily.

How to choose the right paper shredder?

Choose a paper shredder depending on the amount of papers you would have for shredding daily. For between 10-100 sheets for shredding in a day a small shredder is sufficient Between 100 to 500 a medium sized shredder is enough, but if you consistently have 500 sheets for shredding daily it would be better to consider a heavy duty paper shredder

Also remember these shredders are not for shredding old records/documents you may consider our shredding service for destroying occasional big lots of documents

The best paper shredder for you depends on your particular needs. A shredder's ability to chew through a lot of paper depends on its speed, capacity, or its ability to shred continuously for a long stretch without a break. The factors that are most important will depend on your situation. For example, a smaller office may want a fast shredder to run through a modest amount of paper

SASCO Paper Shredder Features–
Silent
Jam proof
Pull out bin
Energy efficient
Safety Features

Categories of paper shredder –
Small paper shredder
Medium paper shredder
Large paper shredder
Heavy duty paper shredder

SMALL PAPER SHREDDER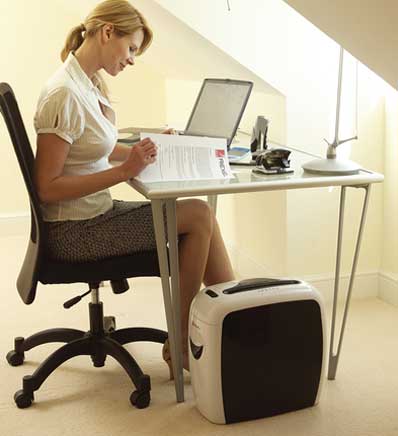 This category paper shredder is for single person use or for a small office of about 10 people it can shred between 1 to 100 sheets daily, they generally don't have wheels and come with child lock and silent operational sound, Good brands are GBC , Fellowes and Gobbler


MEDIUM PAPER SHREDDER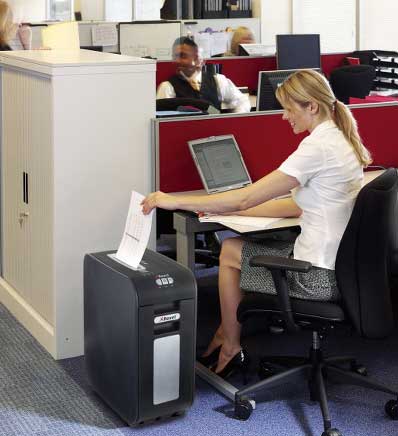 These machines are for small offices and can be kept as a common shredder for the entire office or department, they are generally able to take between 10-20 sheets together and can also shred CDs and credit cards, there is no need to remove staples from the papers. The paper shredder comes with wheels so that it can be easily tucked under a table when not required. The pull out bin is big enough to take about 100 shredded sheets.
LARGE PAPER SHREDDER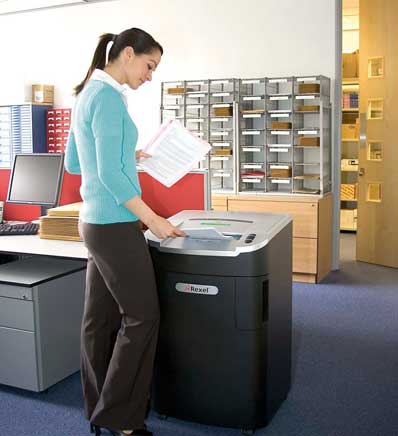 This category paper shredder is useful for large offices with office space of 5000 sq ft and with 100+ personnel, it can run continuously without cooling for long periods, generally for an hour, sheet capacity varies from 25 to 50 sheets together and there is no need to remove staples and pins Etc. Along with papers it can also shred CDs and credit cards, If you have to shred all papers together once a week this is the machine for you.
HEAVY DUTY PAPER SHREDDER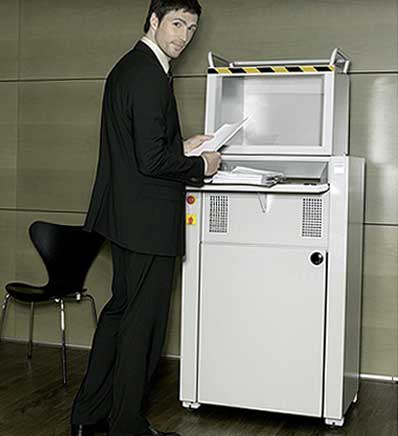 A heavy duty paper shredder is for shredding several kilos every day, they can work nonstop for the entire day and perform excellently day after day, and they can be used in the back office by the house keeping staff or the corner of the office if shredding is required by authorized personnel, these heavy machines cannot be moved frequently even though they are placed on wheels, consider buying this category only for very heavy shredding workloads, maybe daily, once a week or fortnightly.
SO WHAT EVER YOUR NEEDS YOU'LL DEFINITELY FIND THE RIGHT MACHINE WITH SASCO
CONTACT US NOW AND WE'LL BE GLAD TO SUGGEST A PAPER SHREDDER TO YOU.
SEND ENQUIRY